Heirloom Quality Custom Ironworks
Christopher Thomson, artist blacksmith, has designed all of his ironworks including unique sculptures for the home and garden as well as large scale public sculptures. His craftsmanship extends to heirloom quality furniture and furnishings, designer portable lighting and architectural lighting, home accessories and architectural ironworks. His distinctive award winning transitional artworks are hand forged in his northern New Mexico blacksmith studio and displayed at an onsite gallery and sculpture garden.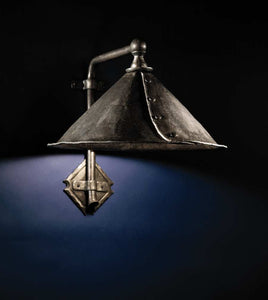 Hand Forged Luxury Lighting
Christopher's personally designed architectural lighting collection is one of Santa Fe's well known luxury lighting brands. From his designer lamps, wall sconces and lanterns to his elegant chandeliers and ceiling pendants, Christopher's lighting has been installed in estates across the Southwest.
Luxury Architectural Lighting
Designer Wrought Iron Furniture
Using 95% recycled steel, Christopher has been redefining luxury for the last 38 years with bold sophisticated designs.
Explore his high end iron bed frames, benches and tables.
Hand Forged Furniture
Sculptures
As a metal sculpture artist, Christopher's creative process is deeply connected to his improvised flute music and his time spent kayaking down the rivers of the Southwest.
His award winning pieces have been featured in galleries from New York City to Los Angeles.
Improvised Abstract Sculptures
New Colorful Wall Sculptures
Our latest hand forged sculpture series, Single Musings, are brilliantly colored hand-forged steel wall sculptures that draw their inspiration from the Pecos River and the Northern New Mexico canyons. These sculptures make a stunning addition to any home or outdoor area.
View Single Musings