Visioning #4 sculpture installed in St. George, Utah. On view through April 2020. This 125"h x 24"w x 24"d forged steel sculpture is located near the Children's Splash Pad next to the Children's Museum in downtown St. George.
---
Christopher's Blooms will be on exhibit this month at La Mesa of Santa Fe as part of the Canyon Road Sculpture Month.You can view the full program of events and exhibitions on the Canyon Road Sculpture Month website.
Christopher Thomson and Susan Livermore will be present in the La Mesa Garden on May 25th from 2 - 5 pm to speak about the sculptures.
---
The International Iron Tribe Exhibit
opened February 8th and it will be closing this coming weekend.
"This curated show is as much about the culture of iron artists as it is about mediums,"
says David Lobdell, the Highlands fine arts professor who founded the biennial Iron Tribe event in 2001.
"It features iron and steel sculptures, paintings, photographs, fine art prints, and videos that are all connected to the idea of iron as a physical element."
---
With funding from a voter approved Transient Guest Tax, the City of Liberty and the Liberty Arts Commission have developed an annual sculpture program that includes six original, three-dimensional works of art now on display through July 2019 around Liberty's historic downtown. Christopher Thomson's "Spiral Blooms #6" is located at the corner of Main Street and Franklin Street. This work is featured in an Otocast tour of the Chicago Sculpture Exhibition - download the app to your phone to listen.
---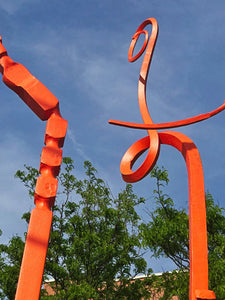 Christopher Thomson's latest forged sculpture from his "Aspire" series was recently installed for the 17th Annual Chicago Sculpture Exhibition 2018. This work is featured in an Otocast tour of the Chicago Sculpture Exhibition - download the app to your phone to listen. TITLE: "Aspire #4"LOCATION: 3536 S. Iron St.SIZE: 16' x 5.5' x 5.5'MATERIALS: Forged Steel, Bronze & PaintSPONSOR: ComEd